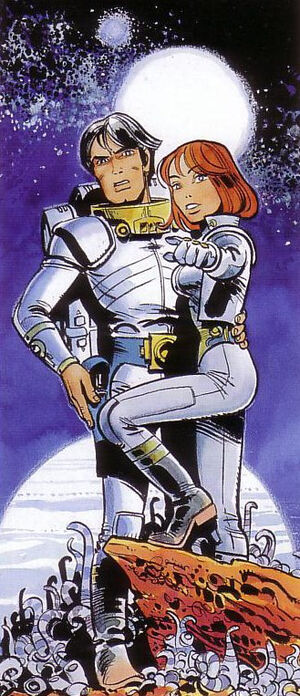 Valerian and Laureline is a French series of science fiction comic book albums. They were written by Pierre Christin, drawn by Jean-Claude Mézières, and colored by Evelyn Tran-Lé.
Summary
Valerian is a spatiotemporal agent who travels the Universe through space and time with his colleague, Laureliine, to protect the planets of the Terran Empire against temporal paradoxes.
Albums
0. Bad Dreams
1. The City of Shifting Waters
2. Empire of a Thousand Planets
3. World Without Stars
4. Welcome to Alflolol
5. Birds of the Master
6. Ambassador of the Shadows
7. On the False Earths
8. Heroes of the Equinox
9. Châtelet Station, Direction Cassiopeia
10. Brooklyn Station, Terminus Cosmos
11. The Ghosts of Inverloch
12. The Wrath of Hypsis
13. On the Frontiers
14. The Living Weapons
15. The Circles of Power
16. Hostages of Ultralum
17. Orphan of the Stars
18. In Uncertain Times
19. At the Edge of the Great Void
20. The Order of the Stones
21. The Time Opener
22. Memories from the Futures

Ad blocker interference detected!
Wikia is a free-to-use site that makes money from advertising. We have a modified experience for viewers using ad blockers

Wikia is not accessible if you've made further modifications. Remove the custom ad blocker rule(s) and the page will load as expected.